Heat Treated Pallet Containers

This is how you should ship your expensive goods, with pallet network couriers in a safe, secure and well presented manor.  We make shelves, partitions, inner cartons and bespoke sizes to order.  Cardboard pallet box containers offer the safe and secure cardboard box delivery solutions ensuring a damage free delivery of your prestigious products.
Why not have the box made with your corporate identity and branding.  Maybe the care and delivery instructions printed on the outer side?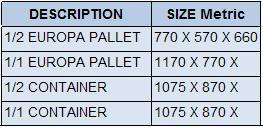 We can style and configure your cardboard box on a pallet to half size Euro-pallets both low and small, tall enough for domestic fridge freezer or stack-able pallets with free standing boxes as well as weather proofing and plastic skins.
We offer full size Euro-pallets and standard pallets all from new stock and to specification.
Contact us or read about us for more products from Ipswich Packaging.